Report of Techorizon 2021 on 22nd July 2021
The Department of Electrical and Electronics Engineering of New Horizon College of Engineering had organized project competition Techorizon 2021 on22nd July 2021. This event was coordinated by Dr. J. Joshua Daniel Raj, Senior Assistant Professor, NHCE- EEE and Dr. N. Prabhakaran, Senior Assistant Professor, NHCE – EEE. The competition was held to focus on the importance of project and practical implementation of innovative ideas in Electrical and Electronics Engineering domain. About 47 teams were registered and actively participated in this event. This program began with inaugural ceremony at 10 AM. The Key note address was delivered by Ms. Sonika Somaiah, Quality Assurance Engineer, McAfee Corp, Bengaluru. Dr. M. Mahesh, HoD- EEE, NHCEwelcomed the judges Mr. Naimish Bareek, Alumini- NHCE, Software Engineer, Wipro Pvt Ltd and Ms. Sharanya. B, Alumini – NHCE, Software Engineer, ALTRAN Inc. The judges have carefully monitored the projects and gave their valuable suggestions for improvement to the students.
2-wire Ac Distribution For Protection -Using Isolation Transformer by Mr. Thomas Allwin Anto-and Mr. Abhilash Mithare guided by Dr. Gunapriya. B, Associate Professor, NHCE-EEE  bagged the First Prize. Cobots to assist with Healthcare workers by Mr. Shirdharan and Team guided by Dr. A. Singaravelan, Senior Assistant Professor, NHCE-EEE was awardedSecond prize.
The participants were motivated by the rich experience and guidance of the judges. The program ended with a vote of thanks by Dr. N. Prabhakaran, Senior Assistant Professor,NHCE-EEE.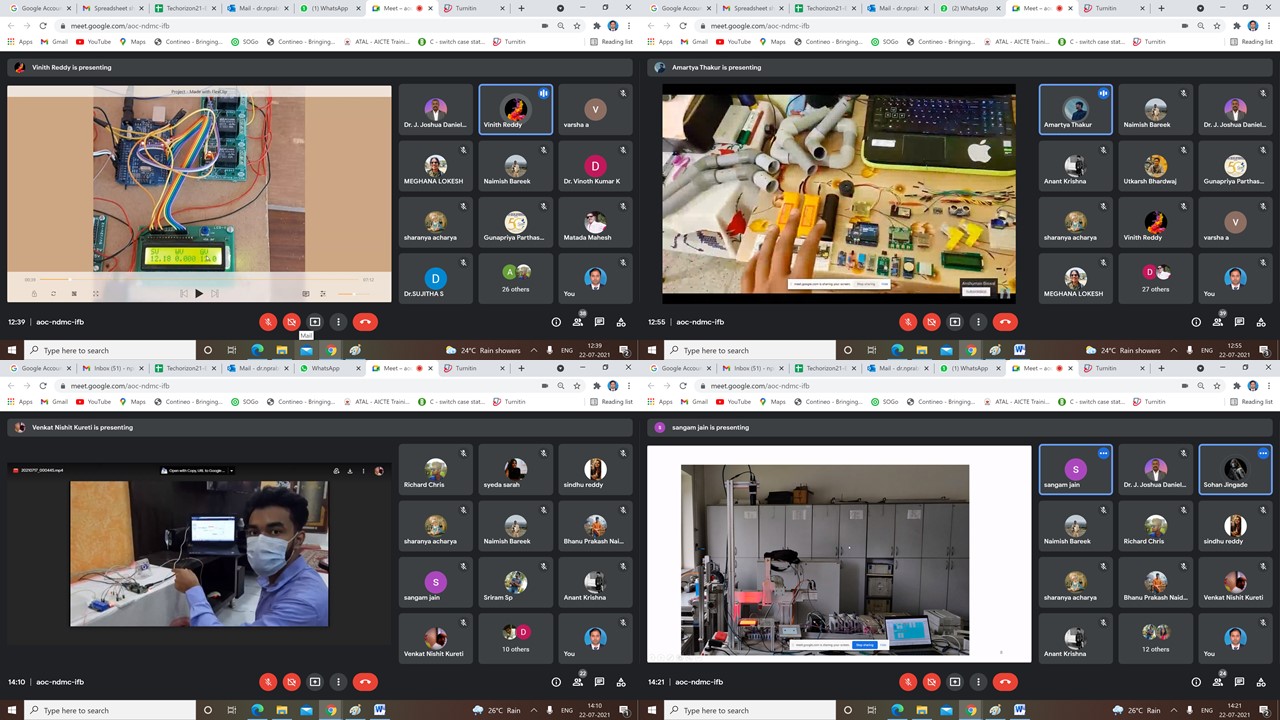 In Pic: Participants presenting their projects