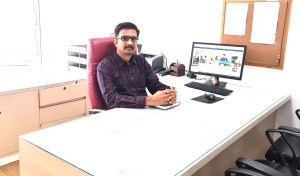 Dr. Sakthivel Aruchamy
Professor & HOD
Electrical & Electronics Engineering
Department of Electrical & Electronics Engineering
Welcome to the Department of Electrical & Electronics Engineering (EEE) at New Horizon College of Engineering (NHCE), Bangalore. EEE is one of the prestigious branches of Engineering and one among the oldest departments of NHCE-Bangalore started in 2001. The EEE Department has been playing a vital role in producing engineers and technologists of high caliber ever since it was established in the year 2001. The Department is accredited by NAAC with 'A' Grade and accredited by NBA. The vision of EEE Department is to create contemporary Engineers, innovators and entrepreneurs to make a better nation and in turn, a better world. A critical investigation and innovation into the modern state-of-art and cutting edge technology lead to the fact that an electrical graduate fits better in today's competitive world.
The strength of the department is highly qualified faculty members with expertise in various fields of electrical engineering, state of art laboratory facilities. The department is inclined towards bridging the gap between Industry and academia by collaborating with Multinational Companies in the field of Electrical Engineering.
Indo-French Center of Excellence in Electricity, Automation and Energy (IFCEEAE) is one such initiative evolved through "MoU" with French Ministry of National Education and Schneider Electric India Pvt. Ltd., The main objectives of IFCEEAE are
To train the students of all streams of engineering in automation field
To facilitate interdisciplinary and applied research with a focus on innovative product development
To provide excellent career opportunities to students through exchange programs with French Universities, industrial training, innovative learning and R & D activities especially in the areas like Smart Grid, Internet of things (IoT), Energy Management Systems, Embedded systems, Supervisory Control and Data Acquisition (SCADA) and industrial automation.
The Department nurtures the young minds beyond the curriculum by facilitating technical clubs in promoting technical events, community development/society impact and universal value/ethics programs. In supporting to this, Department of Electrical & Electronics Engineering has established Institute of Electrical and Electronics Engineers (IEEE) – Power Electronics Society (PELS) Student Branch Chapter (Geo-Code: SBC66131) Industrial Electronics Society (IES) Student Branch Chapter(Geo-Code: SBC66131B) which is the non- profitable, world largest technical professional organization for the advancement of technology. The students have a greater exposure and flexibility in campus placements in core industries, IT sectors and Public Sector Units (PSU).